Who Was Robert H. Baker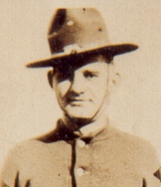 He was probably born in Kentucky, though there are no official census records of his birth in America. Date is Nov 22, 1894.
He lived in Liberty, and was supposed to be a plumber when he enlisted in the Missouri National Guard May 31, 1913. He was in Company H 3rd MO National Guard. When activated in April 1918, he held the rank of Sgt. The 3rd Reg was called to mobilize at KC on March 25, 1917 and assigned to various guard duties. On Oct 11, 1917 they were moved to Camp Doniphan, OK, and consolidated with the 6th MO Inf, to form the 140th Inf of the 35th Division. They embarked for Europe on April 24, 1918
There were two stories about his death; one is that he was wounded Sept 28, 1918 at the Argonne Forest, which was the last big push of WWI, and that he died October 8, 1918 in a hospital of a shot in his hip. The other story is that he was in a dugout on a high bank and stepped outside and was shot and killed by a German sniper. This was Sept 28th. He is buried in France No. 3, Commune of Banbrey, Depot, Meuse, France.
The reason for so little being available was due to two stories concerning his death, the only official notice his folks received was that he was Missing In Action, a couple of Robert's friends returned to Liberty and told his folks that they had seen Robert in Paris a few days after the shooting had stopped, and that he was walking on crutches. Because of that neither of his parents would ever (up thru each one's death) believe Robert was dead.
His father died in the 30s and his mother in the 1940s. Because of this conflict of stories his mother never left her house as she intended to be there when Robert came home. (info from Jack B.Wymore) and the Clay County Archives and from old copies of the Liberty Tribune. There was never found by myself or my friend Sara Yocum any obituary about Robert's death.
Information supplied by Donna Warren Post 95 Historian